The Millennium Knickerbocker Hotel History
August 8th, 2019 | hereschicago
The Roaring Twenties, a booming metropolis and a $3,000,000 architectural
masterpiece––for certain, it was history in the making. The Knickerbocker Hotel,
then named the Davis Hotel after the original General Manager, opened its doors to
anticipating Chicagoans on Monday, May 16, 1927. Notable architects Rissman &
Hirschfield, who are responsible for many impressive structures in the city's skyline,
built the 350-room, 14-story, gothic-inspired gem in less than one year. It was an
intoxicating time in America, one that fueled rapid change and invention, artistic
ingenuity and high-society pleasantry.
Throughout the years, the Georgian-style Crystal Ballroom, with its expansive 25-
foot, gilded dome ceiling and its graceful balcony, has been the setting for many
prominent gatherings, conventions, business meetings and extravagant galas. During
the early years of the hotel, guests could watch the famous dance act of Veloz and
Yolanda twirl about the illuminated glass dance floor, casting a brilliant spectrum
of colors. When one of Yolanda's heels cracked the floor, a glass square could be
replaced in under 60 seconds, ensuring the show went on. Now plexiglass, the
illuminated floor, the only one in a Chicago hotel, still dazzles guests after all
these years.
Rumor has it that when the stock market plummeted and prohibition reigned, Al
Capone's brother Ralph operated a casino and speakeasy on the Penthouse Floor.
Since access needed to be controlled, only one of the hotel's three passenger
elevators was able to reach the top, where the illegal rooms were found. Adding
some credibility to this story of connections to a shady underworld was a secret
door leading to a stairway, which was discovered during a 1980s remodeling.
If interested in learning more about the Millennium Knickerbocker Hotel, contact: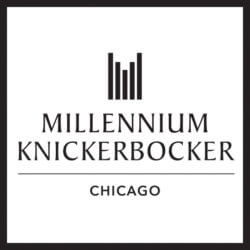 KARA WEBER | MILLENNIUM KNICKERBOCKER CHICAGO
Sales Manager
163 East Walton Place, Chicago, IL 60611
T: 312.867.7515