Chicago's very own, The Ides Of March rocked an intimate party at The Jam Lab in Brookfield for members of the media.
August 4th, 2019 | hereschicago
Standing in the front row during an intimate concert with legendary rock group The Ides Of March was awesome. Being filmed for a music video was priceless!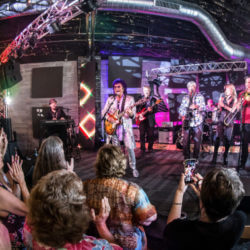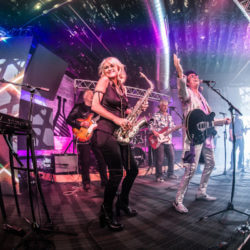 Last Sunday The Ides Of March rocked an intimate party at The Jam Lab in Brookfield for members of the media. We were fed delicious tacos and sipped tasty margaritas from Standard Market as we mingled with original band members Jim Peterik (lead singer/lead guitarist/piano/songwriter), Larry Millas (guitar/bass/vocals), Bob Bergland (bass/saxophone/vocals) and Mike Borch (drums/vocals) plus Scott May (Hammond organ/vocals), Steve Elsen (woodwinds/percussion), Tim Bales (trumpet/Flugelhorn) and Henry Salgado (trombone). But the big moment was when we put down our food and drinks and filmed a music video for their new song, "Friends Like You".
"Everyone come close to the stage!" was the announcement and since I follow directions very well I immediately beelined for the front row with HeresChicago's own Jim Grillo. We must have said "this is so cool" to each other at least a dozen times as the cameras began rolling.
In order to capture different camera angles the band performed the song several times, so even though we had never heard the song before we found ourselves singing along after a few takes. It also helps that Jim Peterik is an amazing songwriter and the chorus was very catchy. If you look closely you'll see us on the end of the front row, stage right (I'm wearing glasses).
Ides of March Friends Like You from hereschicago on Vimeo.
I've known the amazingly talented Jim Peterik for many years. He was one the first guests on my podcast Cara's Basement back when it launched in 2007. The highlight of our interview was when he played a killer acoustic version of "Vehicle" as he sat next to me. Unforgettable experience. After we filmed their music video last Sunday the band treated us to a few more songs including an energizing rendition of "Vehicle". Also an unforgettable experience. Almost 50 years after that song was released it is still an earworm!
The Ides Of March will be releasing their 55th anniversary album, "Play On", on August 16 2019. It includes 14 new songs and a re-release of their platinum hit "Vehicle". "Play On" will also be released in a deluxe double-disc vinyl edition and will include the original masters of seven Parrot and Warner Brothers singles. A definite must-have for any collectors.
Amazon CD Pre-Order:
https://www.amazon.com/dp/B07T3NQ9PH/
Amazon Vinyl Pre-Order:
https://www.amazon.com/dp/B07T3JPLR8/
**links**
Contributing Editor, Cara Carriveau