The I'm Possible Women's Empowerment Conference Elevates, Educates & Empowers Female Entrepreneurs
November 28th, 2017 | hereschicago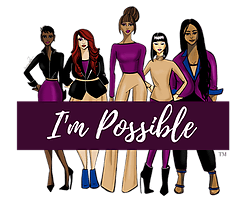 To help female entrepreneurs grow their businesses and themselves to their fullest potential, local entrepreneur Sharon Ringiér will present the I'm Possible Women's Empowerment Conference from Friday, Feb. 15-18, 2018 at Hilton Chicago-Northbrook located at 2855 Milwaukee Avenue.
The four-day event is the creation of Ringiér, owner of Sharon Ringiér Events, a Chicago-based special events and wedding planning company. Her goal behind this brand new conference is to share the message with women that "they are possible."
"What that means is that women, at the end of the day, go through a lot," she said. "We have this superwoman-like syndrome where we feel like we have to do everything in our lives and we sometimes lose ourselves in the midst of the moment. I want to make sure that women understand that when life happens, they can pick themselves up and realize that they're worth it."
Each day of the conference focuses on a specific topic. Day one centers on "Mind, Body and Soul where guests will learn to avoid negative thinking and how they can sustain themselves with their own personal missions. Day two concentrates on legal issues, branding and singular storytelling through the theme of "Business Mastery" Day three covers creating one's personal financial legacy, taxed and accounting by highlighting "Money Matters."
Guests will also hear inspiring stories and experiences from three keynote speakers: Whitney Reynolds, host of PBS' "The Whitney Reynolds Show"; Jacqueline Camacho-Ruiz, international speaker, author and founder of the Naperville-based JJR Marketing; and Barry Schimmel, Chicago-based consultant, author and motivational speaker. There will also be social events as well as a Women's Business Expo with more than 40 exhibitors with business resources.
One of the highlights will be the "Celebration You" Gala on Saturday, Feb. 17th. The gala, a celebration of self, will be emceed by Traci S. Campbell, founder of the Chicago-based Beauty In/Beauty Out (BIBO) Foundation, an organization that emphasizes the positive revamping the image of women.
Event sponsors include Teddie Kossof Salon & Spa, Hot Noize Entertainment and Pinstripes. A portion of the ticket proceeds will benefit the following charitable partners: The Fig Factor Foundation, Mary Lou and Arthur F. Mahone Fund and The Far'Falla Girl organization.
Thinking of her own legacy, Ringiér hopes to present her event on a yearly basis. Most importantly, she wants guests to walk away from the conference encouraged and empowered to find their own self confidence as well as tips and tools that they need to have successful personal and professional lives.
"I want women to be able to believe in themselves when they feel no one else does, to know that they're not alone in this journey," she said. "I want them to know that when life happens, they don't have to carry that weight on their shoulders but they need to know how to handle situations as they come."
For more information or to register for the event, visit https://www.impossiblewec.com/.