Career Advancement Tips with John Potterton
February 14th, 2020 | hereschicago
Feb 13, 2020 
Career Advancement Tips 
Improving Your LinkedIn Profile
Whether you are actively seeking employment, casually looking to change jobs or working in a job that gives you great satisfaction, having a LinkedIn profile that clearly demonstrates your competencies, interests, titles, employment history and education is very important. Why so important?  Since Microsoft purchased LinkedIn in 2016 they continue to upgrade the platform and it has become one of the recruiter's go-to search engines to find top candidates for open positions.  Because an estimated 95% of recruiters utilize LinkedIn in their search for qualified employees, it makes absolute sense to create your LinkedIn profile so that it stand outs and gets noticed. You just never know who might be looking to hire a person with your competencies and skillset. With this in mind, I'd like to share with you this tip to help improve your LinkedIn presence.
Customize Your Profile Photo and Background Image
The default LinkedIn uses when you first create your profile is a grey box with a generic image and a blue background with a series of connecting dots.
This is the generic profile you can easily customize to make your profile represent your unique qualities and characteristics. While most people fill out their experiences, bio, education, and other fields on their LinkedIn profiles, they often ignore the photos. Your profile photo and background images give the first impression of your personal brand reputation. I think we can all agree that first impressions are lasting.
So let's first focus on your profile photo. When uploading a photo in place of the generic grey box, be sure you use a high quality photo of just your headshot. It should not have any distracting background or other people in the image. Once you have uploaded it, look at it on a computer as well as a phone to determine if the image is focused and clear. Often times when you use a photo that has been zoomed and cropped to capture a headshot it becomes fuzzy and difficult to see – that's a distraction you want to eliminate. The ideal size for your profile picture is 400 x 400 pixels. Larger file sizes are also fine (although 8MB is the max), but try to avoid small, low-resolution images. If the picture looks a bit blurry when you upload it, choose a different one. Here's an example of the photo I use for my profile: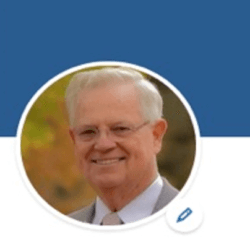 As far as the background or banner displayed across the top of your page, it is surprising to see the number of people who use the generic connected dots background instead of a customized image. It is a detail often overlooked yet very easy to change in order to communicate your value, skills and professional identity. It should visually support the written portion of your profile.
Here's an example of a customized background created by Adam Zajac for his LinkedIn profile. Before even getting to read his profile, the banner clearly communicates he is a professional resume writer, career strategist and branding specialist who is employed by Vocamotive and is a member of the National Resume Writers Association.

There are many other ways to customize your background image to communicate something about you.  Some people use graphics or photos of places, people or things without any text. Others use quotes or word art to articulate their values, background and priorities. Whatever you choose, be sure you are not using copyrighted material or artwork. The recommended photo size for your background is 1,584 x 396 pixels. It can be larger or smaller but should always maintain a 129:8 aspect ratio. Your photo has a maximum file size of 4mb. LinkedIn accepts PNG, JPG, and GIF file types.
So there you have it.  Two things you can easily do today to help make your LinkedIn profile standout from others. I will offer additional tips for improving your LinkedIn profile presence in the coming months. In the meantime, feel free to reach out to me should you have any specific questions, comments or feedback.
###
About the author:
John Potterton is a past-president of MPI-CAC and recipient of its highest honors including the Kathy Osterman Industry Award, Supplier of the Year Award and Hall of Fame Award.  Currently John works as an independent consultant providing Career Advancement Services including Coaching, Mentoring, Resume writing and LinkedIn Profile updates.  He can be reached at 773.571.0171 or jpotterton@gmail.com.