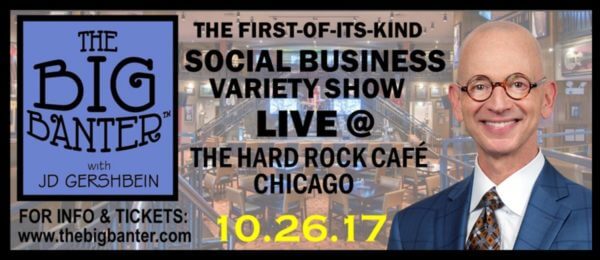 Join JD Gershbein on the evening of Thursday, October 26, 2017 for the SERIES PREMIERE of his Internet TV show, THE BIG BANTER WITH JD GERSHBEIN, which will be filmed in front of a LIVE audience at the iconic Hard Rock Cafe in Chicago. (The content will be edited and archived online for viewing.)
Billed as the FIRST-OF-ITS-KIND SOCIAL BUSINESS VARIETY SHOW, The Big Banter combines education, entertainment, and networking.
Panel Discussion:
"BUILDING ENGAGED AND ENLIGHTENED COMMUNITIES"
Panelists:
JIM GRILLO, CMP: Founder, Here'sChicago.com
VINCE WILLIAMS: Membership Director, Chicagoland Chamber of Commerce
BETH PETERSON: Founder, The Yummie Network
TONY PAOLELLA: Founder,  Tony P's Networking Events
WENDY LEE: Chicago Chapter Director, The Co-Opvertising Network
Moderator:

JD GERSHBEIN
To learn more about the vision of the show, and claim your spot at the taping, please visit https://www.thebigbanter.com