5:00 p.m. - 8:30 p.m.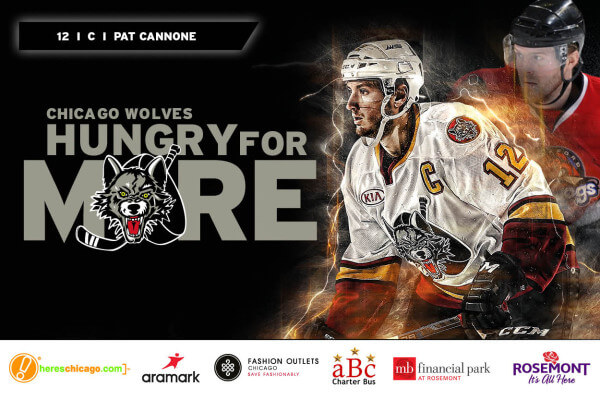 ATTN: Meeting, Event and Hospitality Professionals. Here's Chicago APPRECIATES YOU...Yes, All Of You!
In the eyes of the Chicago Wolves and the Village of Rosemont, you are a VIP in every sense of the word, and we would like to thank you with a special invitation to our first-ever Here's Chicago Hospitality & Tourism Appreciation Night.
The Wolves will go head-to-head with rival Rockford IceHogs at the Allstate Arena on Wed., March 30, 2016.  Grab one (1) guest to help us celebrate.
When: Wednesday, March 30, 2016 
Where: Allstate Arena 6920 N. Mannheim Road, Rosemont, IL 60018 Home of
the four-time league champion Chicago Wolves.
Time: 5:00 p.m. to 8:30 p.m.
Complimentary transportation:
As a VIP, we want you to arrive in style. Be sure to register early to save a spot on the ABC Transportation Services Deluxe Motor Coach leaving Harry Caray's (Kinzie St.) at 4:45p.m. Wine and beer included.***
If the Blue Line is more convenient, we ask you to register too as a complimentary shuttle will be picking you up from the Rosemont Blue Line stop and dropping you off at the Allstate Arena.***
If you are taking your own transportation, make your way to the Northwest side of the arena to park.***
This is an all inclusive private meeting & hospitality industry event
including networking, complimentary food, beverages, a Chicago Wolves hockey game, and gift bags from MB Financial at Rosemont and Fashion Outlets of Chicago for those who attend.
Be the first 25 guests to register and receive an exclusive picture in the
Chicago Wolves penalty box.
***Additional transportation details about pick up and drop off locations can be found when registering.
We're sorry we are at maximum capacity and no longer taking registrations for this event.  
Please save the date for the Here's Chicago Meetings & Hospitality Industry's Summer BASH on June 2, 2016