3:00 p.m. – 5:00 p.m.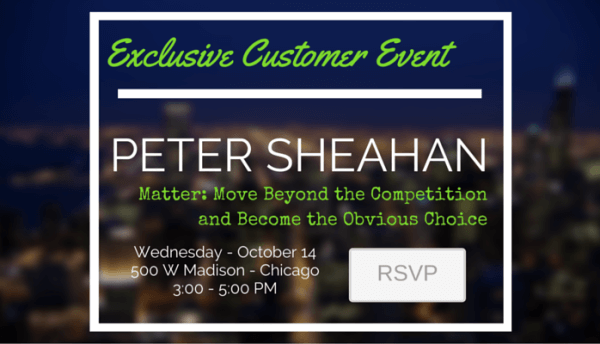 How do you become the obvious choice in a crowded market?
The landscape of the world continues to change, and only those who evolve their business with it will thrive in today's economy.
Peter Sheahan and his associate Julie Williamson recently completed a multi-year study of the companies that have succeeded in the ever-changing marketplace. On October 14, they will be sharing the common denominator of these companies' success in their new presentation: "Matter: How to Move Beyond the Competition and Become the Obvious Choice."
We and our partners at Summits Chicago invite you to join us for this exclusive event at the Summits' new venue in downtown Chicago, on October 14 from 3:00 - 5:00 p.m. There are 100 seats, and we hope you will be in one of them.
For more event details and to RSVP, please visit https://petersheahanpresents.splashthat.com/